36372 Range Road 15 (4 minutes S.E. of Markerville)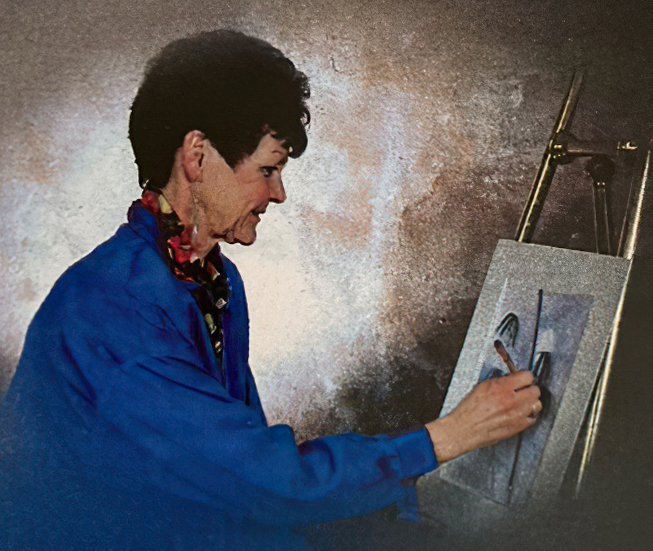 Marie Sveinson, a lifelong artist inspired by her mother, turned her passion into the Creamery Gallery in 1985, where she showcased her work.
Her art is influenced by her Icelandic heritage and the historic charm of Markerville. She enjoys painting Animals, Historic Buildings, and Landscapes. Marie's studio, Grass Roots Art Studio, is available for viewings by appointment.
She finds inspiration in capturing cherished memories through her paintings, reviving forgotten moments in people's lives.
Grass Roots Art | Google Maps Link
---
---
Artist's Statement:
Growing up in Markerville, Alberta, I've been inspired by the tales of my ancestors' journey from Iceland and England to Canada, over a century ago. My dream is to preserve these stories through paintings and words, striking a balance between historical accuracy and artistic interpretation. I draw inspiration from the joy in people's faces when I capture their childhood memories in completed painting, rekindling my passion for portraying more forgotten moments.
Artist's Biography:
Marie, born in 1938 at Innisfail General Hospital, considers Markerville her hometown.
She has Icelandic and English roots, marrying Ken Sveinson in 1959, and raising two children on a farm near Markerville. She pursued a teaching career, including studies in Early Childhood Education. Her artistic journey involved watercolour, acrylics, art fundamentals, and Oriental brushwork.
Her works of Art have been presented to Dignitaries in Canada and around the world, including Iceland's President in 1989, and the Queen of Denmark. Marie received the Commemorative Medal for her contributions to Art, Community Service, and Education in 1992.
Partial List of Exhibitions:
2000 – Red Deer Museum and Art Gallery Solo Exhibit – Icelandic Connection
1996 – Alberta Community Arts Clubs Association, Rocky Mountain House, AB
1995 – Spring/Fall Shows, Clearwater Fine Arts Society, Rocky Mountain House, AB
1990-99 – Scandinavian Julestue, Danish Society, Innisfail, AB
1994 – Dr. George/Kemp House, Innisfail, AB
1992 – Series Exhibition in Oriental Brush, Red Deer College
1991 – Artists from the West Country, Danish Society, Visit of Queen Margrethe II of Denmark, Dickson, Alberta