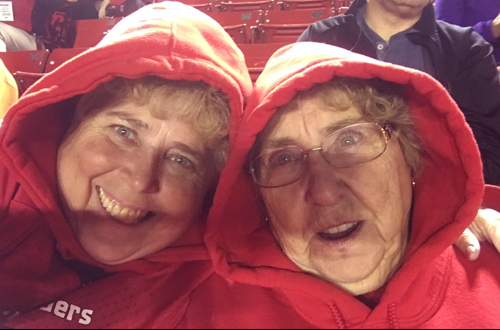 Our names are Hilda and Kristy Gamble, a mother/daughter duo that has spent many hours taking classes, going to and running quilt retreats, learning and practicing our skills through fun, and now also teaching others. We play with both yarn and fabric.
Our yarn play has us create items such as slippers, mittens, hats, scarves and afghans of different sizes, weights and colors. Our fabric play has us create items such as placemats, hotmats, table runners, centrepieces, children's books, table cloths and wall hangings.
Then there are the quilts! From small baby quilts to couch throws, twin quilts and sizes on up, there are always several quilts on the go. We create what we are inspired to as well as items we are commissioned to make for those who have specific wishes but perhaps neither the time or the skills to do their own.
We offer our creations for sale to others through markets, word of mouth and the occasional on-line posting. We are also happy to donate items several times a year, on our own, as well as through the two crafting groups in our area that we belong to. We like to think of our donations providing a smile or a warm hug to the recipients from someone in their community who cares.
We run quilt retreats and classes throughout the year, please contact us for details.
The Stitchin Nest at 22 Birdwalk
403-638-7356 | Loppe@xplornet.com
---
---