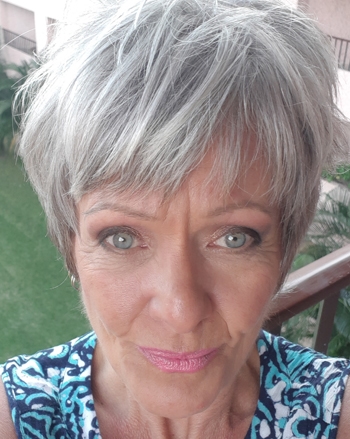 Brenda has a solid experience with Still Lifes and Landscapes in Acrylic on canvas, but also creates unique abstracts. Her previous profession in Decorative Painting and specialized wall finishes, has led her into using this vast knowledge of various plasters and metallic products, and applying them on canvas. These pieces mimicking her love of ancient European architecture with their aged and textured facades. She has recently started combining these plaster products with her fine art to push her boundaries even farther.
Along with her decorative painting experience she has done many residential murals and has worked in Canada, the USA, as well as Germany. Her many years crafting stained glass has also given her additional art form experience.
Brenda has also taught for many years, in such classes as stained glass, professional decorative painting and Trompe l Oeil. She also has experience and taught with many other mediums such as resin, chalk and milk paint, and incorporates some of these in her current works.
Her latest gallery exhibition "Escape With Me" was influenced by the world wide covid situation starting in 2020. She wanted her audience to be able to escape to the many travel destinations she painted for this exhibit.
She has her work adorning many businesses and residences in her area, as well as being featured in a popular Alberta magazine and Home and Garden Conde Nast UK.
She resides in Red Deer, Alberta Canada.